The Basics of Paper-making – Part 2: Drying, MG and MF papers
Paper-making uses some unusual terms that aren't common in general flexible packaging. This blog is part of a series that will make up a quick reference guide to help you understand the basics of paper-making. In part two of our series, we'll cover methods for drying paper on the paper machine. There are two common methods used to dry paper on the paper machine.
MG Paper
MG stands for Machine Glazed. This drying technique uses a very large (>5m) diameter steam-heated drying cylinder called an MG cylinder. The paper is wrapped almost all the way around the cylinder which both dries the paper and also polishes which smooth the surface.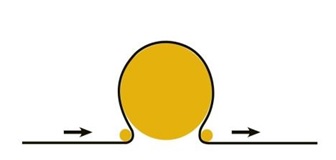 This drying process leads to a different finish on each side of the paper. The MG side is smooth and polished, which creates a good surface for printing and allows for very good reproduction of fine text (great for UDI demands). The other side of the paper (the reverse side) is slightly rough, which gives good receptivity to heat seal coatings and is great for direct sealing.
MG papers are slightly stiffer than other papers which leads to excellent processing through converting equipment.

MF Paper
MF stands for Machine Finished. This drying technique uses a large number of smaller, steam-heated cylinders to dry the paper which is alternately wrapped one way and then the other way so that both sides of the paper receive the same finish.

The finish on both sides of an MF paper is similar to the reverse (rougher) side of an MG paper. MF papers do still print well but can't match the reproduction of fine text in the same way an MG paper can.

Billerud has a wealth of expertise and experience in paper packaging for medical devices. For more on MG papers, download a recording of our webinar HOW MG PAPER IS MADE.
A great way to stay up-to-date on everything from paper-making basics to the latest developments in the industry is to sign up to receive blog updates and info about upcoming webinars.