Billerud's Strategy
Billerud has a great opportunity as trends combine to support growing demand for our renewable, high-quality products made from primary fiber. Our long-term strategic direction provides a concrete plan to achieve profitable and sustainable revenue growth.
Strategy for sustainable profitable growth
Our strategy provides a clear direction to profitable and sustainable revenue growth. Since the strategy was first presented in November 2021, major accomplishments have been made. In 2022, Billerud's sales grew substantially, both organically and through the acquisition of Verso, and the profitability improved. The expansion to North America and our strategic choices will enable further profitable growth to 2030 and beyond.
Our foremost priority is the health and safety of our employees. Safety is a mindset and a culture, and we are continuously working on health and safety issues to reduce the injury rate among both our employees and our contractors.
See also: Our business model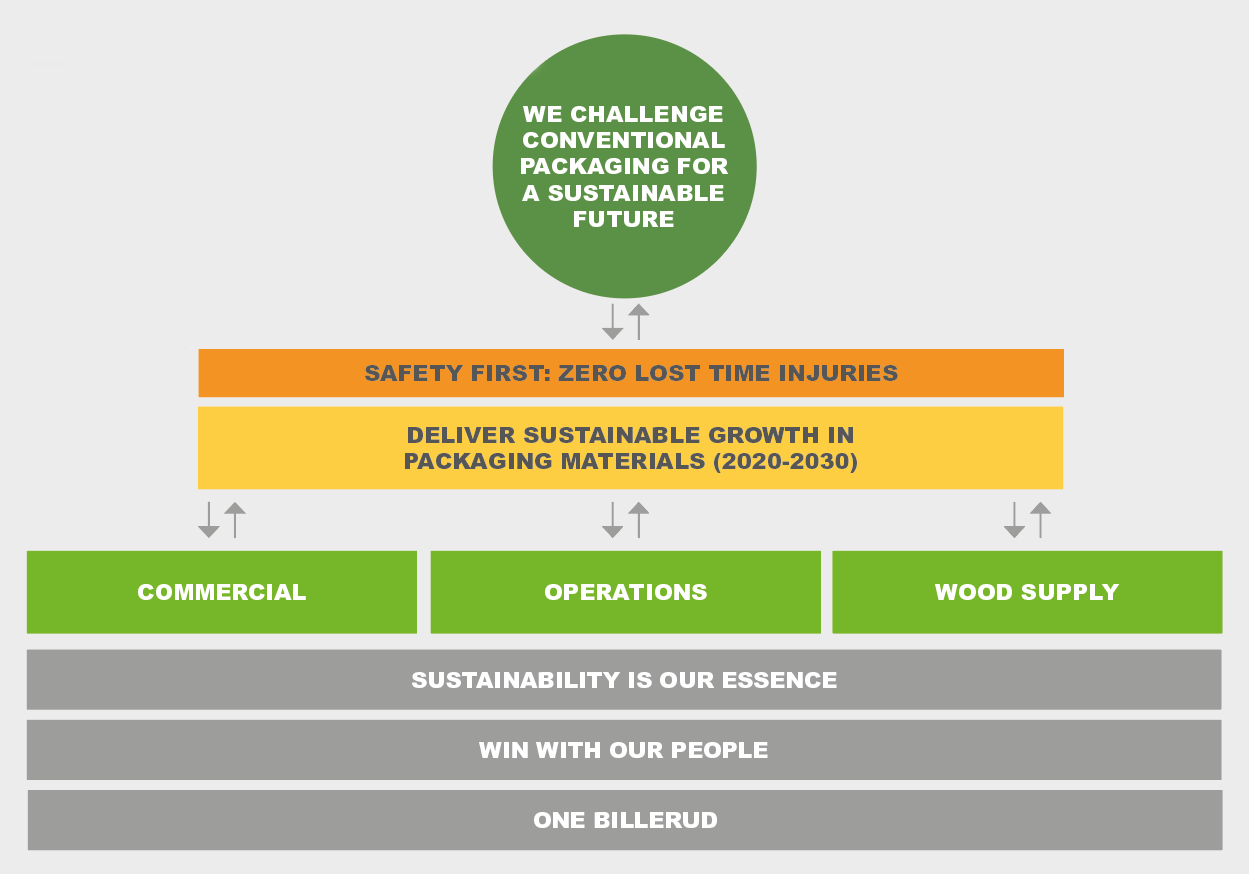 Mission
We challenge conventional packaging for a sustainable future
Our main goals
Safety first. Zero lost time injuries
Deliver sustainable profitable growth in packaging materials
Strategic priorities
Commercial
Our strategy focuses on attractive markets with good growth opportunities as well as product segments where we have strong capabilities to compete. Our focus is mainly on the board and liquid packaging segments where we see the most opportunities for future growth. In our paper segments, including sack and kraft paper, we will strive to improve the mix through value-added applications and innovation.
Europe is our home market where we are well established in all segments. North America will become our main growth region for the next ten years. We have identified a growing market need in virgin fiber containerboard and cartonboard, where the domestic supply is static. In Asia and other regions, we aim to grow with the market in selected applications.
Through our innovation work we are introducing new applications that meet the rising demand for sustainable alternatives to fossil-based plastics, aluminum and glass packaging.
Paperboard – ­Drive the powerhouse in Europe and deliver growth ambition in North America
Liquid packaging board – Long-term profitable growth with select customers
Sack and kraft paper – Improve mix by growing share of target applications
Innovation – Step up impact led innovation


Operations
We continue to focus on efficiency improvements throughout our operations. We are optimizing production across our mills resulting in higher volumes and an improved product mix.
We have made several investments at our Gruvön mill, where we are ramping up the KM7 board machine to provide higher volumes of coated board products. The machine is expected to be fully ramped up by 2025.
The acquisition of Verso in 2022 provides a significant opportunity for growth in the cartonboard market. A transformation project is underway to convert at least one paper machine into state-of-the-art cartonboard production and to drastically reduce our fossil CO2 footprint. In addition, we will maintain our position as a quality and cost leader in speciality and graphic paper. This business transformation will result in additional capacity and a more profitable production mix and forms the basis for our future profitable growth in the region.
Improve efficiency to best in class across all mills with one operating framework
Accelerate KM7 to capacity and release true potential across the three board mills
Develop and execute the transformation in North America
Build factory of the future pilot in Norway.


Wood supply
We source wood from sustainably managed forests. For our operations in Europe over 70% of the wood comes from private forest owners and forest companies in Sweden. While there is good availability of wood in the country, competition for this natural resource is rising due to increased demand from different industries and regulatory changes for forest management.
We recognize the need to maintain and create new long-term partnerships and optimize fiber consumption. We build competitive fiber availability through our current sources of supply and develop alternative sources outside our current sourcing regions. We are also developing a supply chain that is lean, green and flexible to secure availability of quality wood fiber.
We have initiated a long-term partnership with Norwegian forest owner group Viken Skog to establish the production of bleached chemi-thermomechanical pulp in Norway. The new production line is intended to be developed at the Follum mill, which is situated in an area that offers a competitive and sustainable supply of wood in relative proximity to our mills.
Our operations in the USA are near an abundant and cost effective supply of wood raw material.
Optimize fiber consumption
Build long-term partnerships
Secure competitive fiber availability
Develop lean, green and flexible wood supply chain.
Foundations for success
Our success is based on three foundations:
sustainability, our people and our culture.
Sustainability
All our activities are underpinned by our ambitions for sustainability. We have a roadmap to reduce our CO₂ emissions according to science-based targets. This is well developed and has progressed in our European facilities. We will now start this work in our North American facilities as well.
All our wood raw material is responsibly sourced, and we are working towards a fossil-free supply chain.
People
Our people are critical for the company's success and continued competitiveness. Ensuring that we have the right people with the right skills in place and strong succession planning will be crucial in our ability to execute our strategy. We put a lot of emphasis on continuous training both in skills and sustainable leadership.
Our corporate culture is aligned with our strategy and founded on the Billerud values: Place the Customer in the Center, Dare to Innovate, Lead the Change and Care for Each Other.


One Billerud
As Billerud has grown from many different mergers and acquisitions, our systems and processes are not always efficiently aligned. We are currently reviewing our ways of working, systems and processes, to create "One Billerud". This common way of working will make us a more efficient company and a better supplier to our customers.