Billerud's Strategy 2030
Billerud has a great opportunity as trends combine to support growing demand for our renewable, high-quality products made from primary fibre. Our new, long-term strategic direction provides a concrete plan to achieve profitable and sustainable revenue growth.
Society's focus on sustainability is boosting our competitiveness as the packaging industry transforms to support a carbon-neutral society. Strong global developments, as well as regulations and market initiatives, require every part of the packaging chain to be transformed. The long-term growth prospects for Billerud are therefore underpinned by favourable trends, including increased demand for sustainable packaging materials.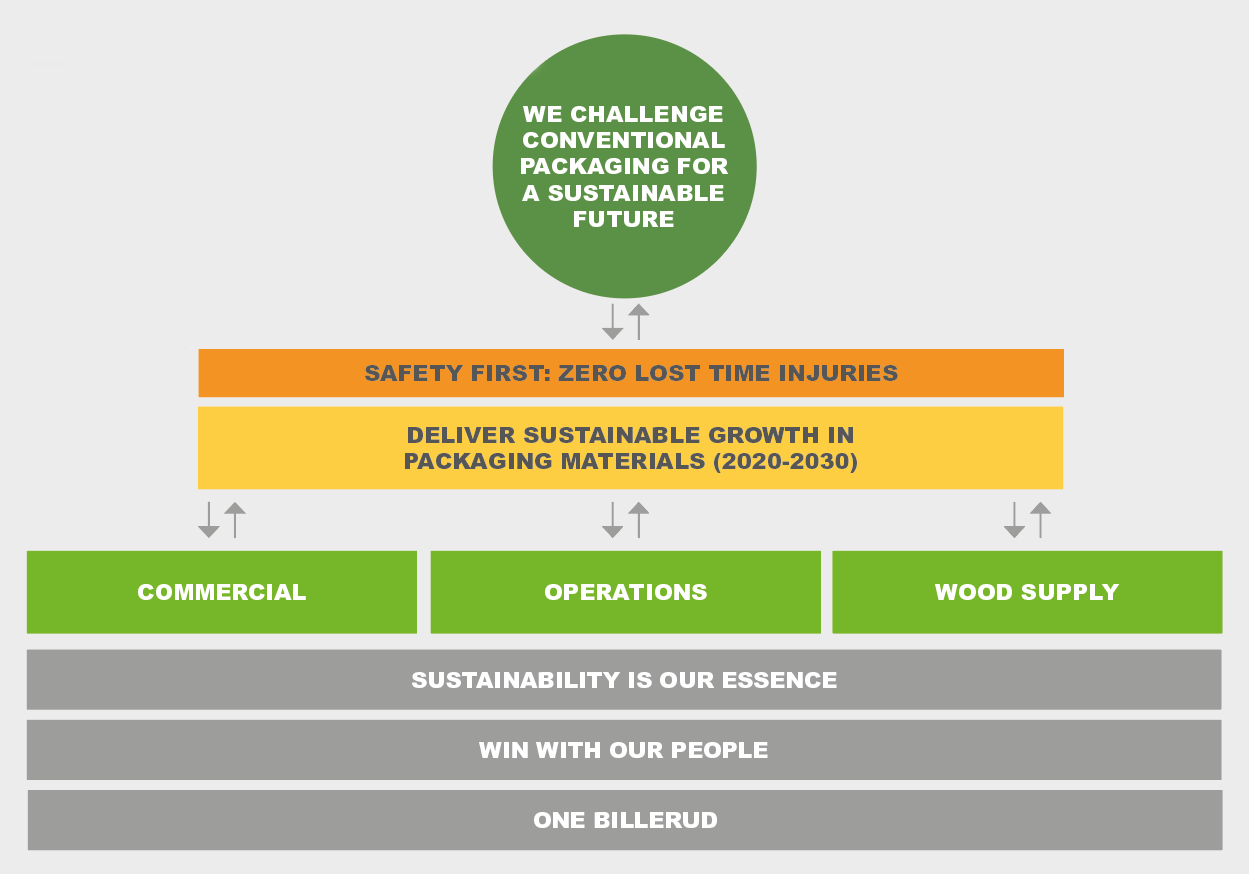 Our mission
Our mission "We challenge conventional packaging for a sustainable future" remains and contains what we want in the future: that we challenge, sustainability and above all it contains our core business - packaging material.
The strategy has a clear goal - to deliver sustainable growth in packaging materials and gives us a clear framework for how we should prioritize in Operations, Commercial and Wood Supply.
Our main targets
Our main priority is safety and no one should be injured in their workplace.
Sustainability is a strong driving force that increases the demand for renewable packaging material. Billerud contributes to the climate transition by replacing fossil-based products with fibre-based, and stimulates responsible forestry.
Our strategy focuses on attractive markets and segments, and we prioritise growth in paperboard products. North America is an attractive market and our largest growth opportunity.
Read more about Billerud's product areas Board and Paper, or our financial targets.
Strategic priorities in the business flow
Paperboard - Ignite growth with focus in North America

LPB - Accelerate growth with select opportunities

Sack and Kraft - Improve mix through profitable applications

Step up impact led innovation
World-class efficiency with one operating framework

Increase the capacity of KM7 and reach full potential in Gävle, Frövi and Gruvön

Value growth in Skärblacka, Karlsborg and Pietarsaari

Evaluate possibilities to boost capacity in current facilities and/or M&A
Optimize fiber consumption

Build long-term partnerships with wood suppliers

Secure competitive fibre availability

Develop an efficient, green and flexible supply chain
Our foundation
Our success is based on three foundations: sustainability, our people and our culture.
We have a strong foundation in sustainability and our employees. We also need to work more as One Billerud.