Trailblazing the future of renewable packaging
The Swedish sports nutrition brand Moonvalley was founded by three world-class Swedish trail-runners with a deep love for the outdoors and an inclination for going their own way in search of the most natural and honest ingredients. For many years, the company had tried in vain to replace the plastic flow wrap material for their organic energy bars with something more in tune with the soul and ethos of the brand. That's when Moonvalley and Billerud crossed paths.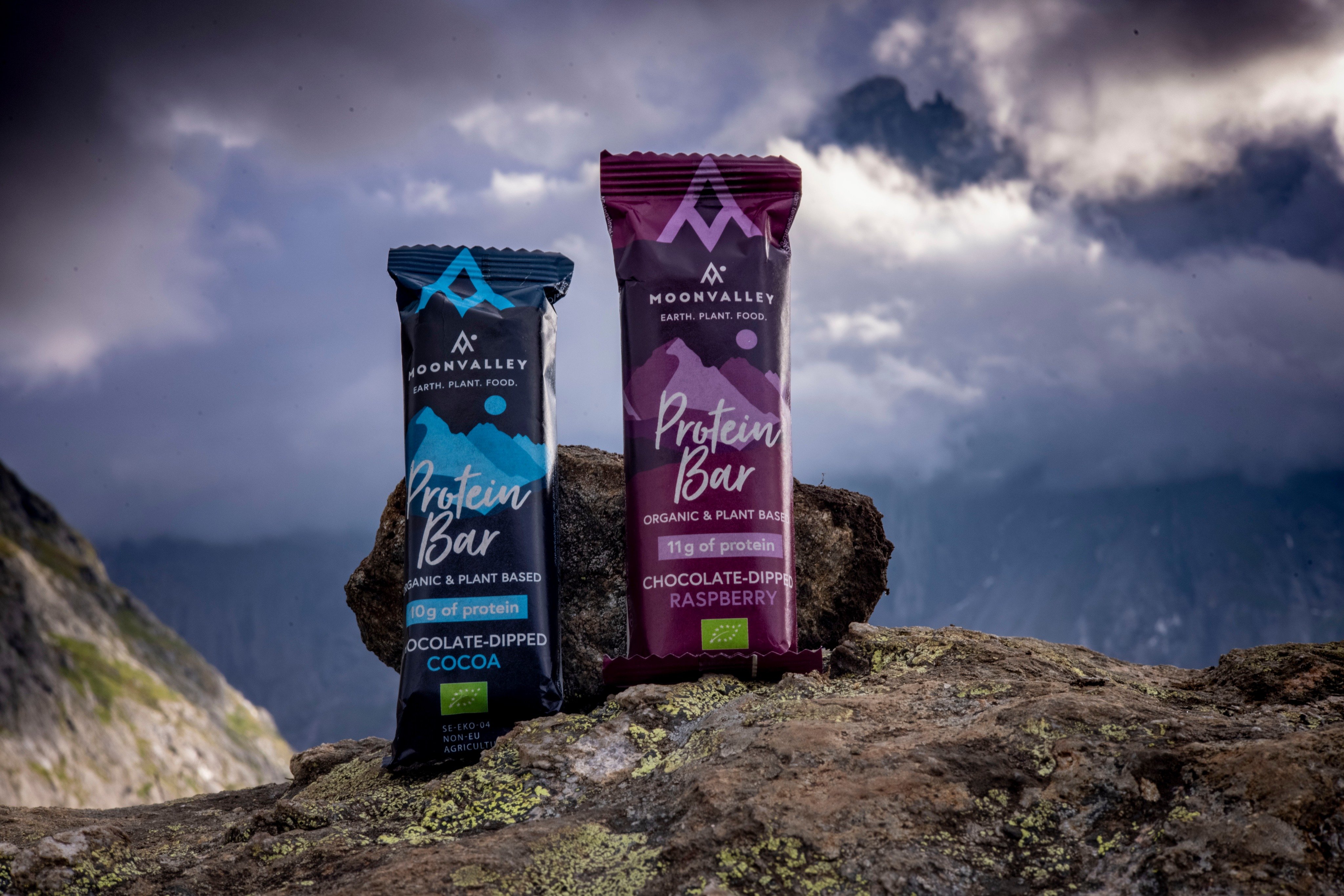 Sustainability lies at the very core of Moonvalley. In fact, its vision is to inspire people to live a sustainable, fulfilling and adventurous life – in and in tune, with nature, our bodies and souls. This thinking is evident in the company's products, that use only real, organic and plant-based ingredients. But there was one thing that didn't quite gel with the brand's sustainability ambitions: the non-renewable packaging for its popular energy bars.
A long search for a more sustainable packaging solution
"We actually started to look into the feasibility of moving away from our plastic flow wrap five years ago", says Emelie Forsberg, who apart from being one of the founders of Moonvalley also finds time for running professionally and competing in long-distance races the world over. "But wherever we turned, we got the same answer: it's not possible - there simply isn't a material which is good enough to replace plastic. So, when we came across Billerud's new paper-based flow wrap material, we were more than ready to give it a go. After all, paper is renewable while plastic is oil. And since we want to work with sustainable materials and be organic, the way forward was obvious."
We want to collaborate with companies that are at the forefront of sustainability. Together we can drive this development.
Emelie Forsberg, co-founder, Moonvalley
Thorough testing required
The main stumbling block for Moonvalley's move away from plastic was always going to be shelf life. If the bars didn't keep in their paper wrapping, the project would be a no-go. Billerud's Recyclable Flow Wrap is an innovative paper packaging solution with high barrier performance that can be recycled as paper. This enables a shift from conventional plastic to paper without compromising on the barrier characteristics – in essence future-proofing the flow wrap packaging solution in the face of stricter sustainability regulations. Johan Björkman is the CEO of Moonvalley and is quietly confident as the test launch of the new packaging approaches. "We have done as much testing as possible and most of the tests have been successful. In addition, the Swedish research institute (RISE) has performed a simulated, eight-month, heat chamber "stress test" with satisfactory results. The bars don't keep for quite as long as when wrapped in plastic, which means that we will produce our bars in somewhat smaller batches, and ship them more often, but that's a compromise that we are more than willing to do."
Paper is renewable while plastic is oil. And since we want to work with sustainable materials and be organic, the way forward was obvious.
Emelie Forsberg, co-founder, Moonvalley
Billerud helped all the way
The entire project, from the first meetings to the launch of the new packaging, has taken less than ten months, during which Billerud's experts have worked in close cooperation with both Moonvalley and its network of suppliers. "We have gotten great support from Billerud in terms of technical know-how, in our contacts with printers and converters, and developing prototypes", says Johan. "Not to mention making sure that things got done in time."
"It has been a true pleasure working close together with Moonvalley in this transition from plastic to a recyclable paper packaging. It shows how powerful it is working together, with multiple stakeholders, in the value-chain to challenge the conventional and to bring new sustainable concepts to market", says Ronny Gimbe, Brand Owner Manager at Billerud.
THE SOLUTION
This is what Moonvalley decided to go for:
Billerud Recycla

ble Flow Wrap, barrier coated paper for high-speed conversion

Food approved in accordance with BFR and FDA

The solution includes a process to make the transition from plastic to paper packaging as smooth as possible for brands and converters. This includes everything from sustainability, cost and application analysis to setting up tests to explore and prepare for full-scale industrial packaging production and development of the first prototypes. In other words: Billerud provides support all the way to commercial launch.
When we presented our idea of switching to paper packaging to our distributors, we were met with positive reactions everywhere.
Johan Björkman, CEO, Moonvalley
Forging a path for others to follow
One might expect Moonvalley to want to guard their new packaging innovation in order to stay ahead of the competition. But that's not in the company's DNA. On the contrary, Moonvalley wants to share their knowledge and encourage other brands to move away from plastic packaging as well. "I really feel that more companies should make this a priority." says Emelie Forsberg. "It's a small but important step towards a more sustainable future for us all."