How packaging can reduce your return rates
If you want to reduce the return rate for your business, take a closer look at your packaging.
Your packaging protects products during transit, and the right packaging can prevent damage. Unlike a customer returning something because it was not what they envisioned, preventing returns of damaged products as a result of problematic packaging is well within your control.
According to uShip, up to 1 in 5 ecommerce packages arrives damaged. A survey by payment services provider Barclaycard found 26% of goods that are refunded are unfit for resale. And according to CNBC, retailers get mere pennies on the dollar for re-sellable returns, which then have to be sent through a lengthy re-selling process.
Let's examine the true impact of returns and how damaged goods affects the bottom line.
Cost of damaged products
A report by UPS found the average manufacturer will spend between 9% to 15% of total revenue on returns. Costs are caused by:
The inability to determine how returns should be dealt with (sent to the vendor, moved into inventory, discarded, etc.)

Inefficiencies in the supply chain due to disruption caused by returns

Lost inventory due to returns not being stored correctly
According to a report by Shopify, the return and repair process accounts for 10% of total supply chain costs. That percentage can climb and reduce profit by 30% when the supply chain is impacted by inefficient processes.
When a customer returns an item damaged because of packaging, it triggers the reverse supply chain, with goods moving from customer to vendor. Reverse logistics, the process of executing an efficient flow of goods that are returned, is a process that costs companies up to $260 billion.
Hidden costs in the reverse supply chain include:
Labor to process returns

Customer communication regarding returns

Damage to brand reputation

Inability to forecast sales prediction
And then there are the products that are too badly damaged to be sold again, the unsellables.
The first step of evaluating your packaging to avoid returns due to damaged goods is calculating the dollar cost of the damage caused. This number, together with the industry average cost for returns, will serve as benchmarks when you evaluate your improvements.
How packaging damage occurs
Damage can occur at any point in the supply chain as the product goes from factory to shipping to warehouse to retailer to consumer. Packaging may not protect the product throughout its entire lengthy and diverse journey, but the damage may be caused by the handling of the package too.
Damage caused by handling can occur for a wide variety of reasons: poor use of tools like box cutters, rough handling of fragile items, or improper environmental control amongst others. At some point in the supply chain, unoptimized packaging could fail at protection, which could result in damaged goods upon arrival.
Unoptimized packaging can also cause inefficiencies in the supply chain, which could result in handling issues. For example, a product like a toilet can weigh as much as 80 pounds/36 kilograms. The hand-holds for the packaging must support that weight when lifted and carried. If the hand-holds break, this is a packaging issue.
If you are getting a substantial amount of damaged goods returns, you must pinpoint what is causing the damage. Here's a look at the factors that can affect packaging throughout the supply chain:
Compression:

How does the package hold up when placed below other packages?

Time:

How long does your packaging stay stacked and in what environment?

Drop/impact:

How does the package handle being dropped from various distances?

Vibration:

As the package is being transported, can it withstand vibration? How does vibration on different types of transportation (conveyor belt, truck, airplane, etc.) affect the package?

Environment/weather/moisture/dust:

How do environmental factors impact packaging?

Distance:

How far is the package traveling through the supply chain? Do special considerations need to be made for longer journeys, such as cross-continental versus interstate?
Any of these issues may be caused by handling, packaging or a combination of both. Address handling problems with handling solutions, and address packaging problems with packaging solutions. If damage is happening because of a combination of both, then combine your solutions. You can identify where damage is being caused and what's causing it during a packaging audit.
Invest in supply chain improvements
Investing in supply chain improvements can reduce the cost of the reverse supply chain. For example, when HP wanted to switch to more sustainable packaging, they were concerned that recycled fibres were weaker and would result in damaged products. Billerud updated the packaging to maintain protection, while also lowering freight costs as well as HP's carbon footprint. The new packaging could withstand the wear and tear of transport, lowering product waste.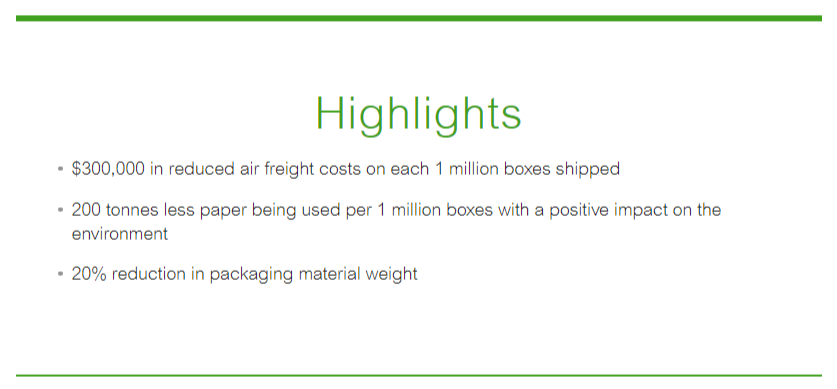 Source: Billerud
Billerud uses custom package prototype testing to test packaging at every step of the supply chain. Adopting an optimized packaging solution can result in an operational savings of 15 to 30% and sometimes higher.
Other positive results include improving customer sentiment, getting better reviews and more referrals, and increasing your loyal customer base and the value of each customer.
We can help you navigate this complex journey, optimize your packaging for your supply chain and decrease returns caused by damaged goods that can also damage profits and your relationship with customers. Learn how Billerud simplifies the entire supply chain.

Webinar - Inbound Packaging: The Hero of Your Business
With more emphasis on end users, more touch points and longer freight distances, packaging is more important than ever. Find out how inbound packaging drives value.
Protect your products with an optimal packaging solution
Effective packaging design must take the entire supply chain into account. Companies and their product vendors must have an intimate understanding of every leg of their supply chain, which they then use to test prototypes before deciding on the right packaging solution.
At Billerud, our package engineers understand material choices and the criteria key to optimal packaging performance. The burden is not on you to describe your entire supply chain, as well as your packaging needs to ensure your goods survive their journey. This is especially important when working with vendors in multiple countries. You need to understand what materials are available, where the raw materials come from and what the differences are as the same material can be nuanced, for example, corrugated board from Vietnam can be different from corrugated board from China.
Webinars & Videos
Partner with a packaging expert that has both industry and regional knowledge. Contact us to find out how we can help you.
Get in touch