How to Perform a Life Cycle Assessment of Packaging
If your company is interested in sustainability, a life cycle assessment of your packaging is a meaningful place to start.
An LCA identifies, quantifies and assesses sources of environmental impact throughout a product's life cycle. It examines all the activities involved with making, using and disposing of a product. This tool can help you compare the environmental impact of different packaging products and determine which option makes the most sense.
An LCA helps prioritize how to make improvements on processes or products. An LCA of packaging takes into account the following criteria:
Supply of raw materials for all packaging components

Use of the packaging (including the full supply chain from product factory to end user)

Disposal of the packaging after use
The life cycle chain looks like this: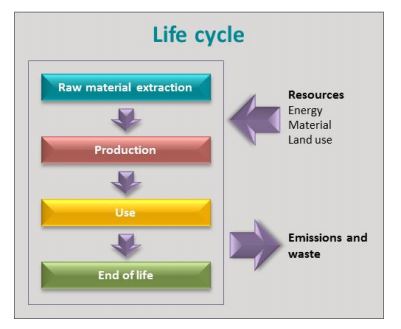 If you are thinking about performing an LCA on corrugated materials or another type of packaging, here is what is involved.
Life Cycle Assessment Phases
There are traditionally four main phases of a life cycle assessment of packaging.
1. Goals and Scoping
There needs to be a clear reason for performing the LCA and a clear definition of the way the results of the LCA will be communicated internally and externally. The goals and scoping phase determines:
Which processes will be included

Which environmental concerns will be included

What economic or social good is provided by the packaging in question

Technical issues that may arise and how they will be dealt with

The audience for the LCA
The goals and scoping phase is important because it ensures consistency throughout the assessment. During the scoping phase, it is vital to document what route the packaging (with product) will take during its lifetime, from raw materials to recovery.
2. Life Cycle Inventory
The life cycle inventory phase, or LCI, is the information-gathering phase for all environmental inputs and outputs for all parts of the product system that is being examined. The life cycle inventory phase includes:
Materials

Energy

Chemicals

Air emissions

Water emissions

Solid waste
The LCI also involves modeling of the product system, data collection, and verification of data for inputs and output of all parts of the product system.
3. Life Cycle Impact Assessment
During the Life Cycle Impact Assessment, inventory data is converted to indicators for each impact category. Categories of the Life Cycle Impact Assessment may include:
Global warming

Depletion of ozone

Pollution

Acidification

Eutrophication

Natural resource usage and impact (habitat, water, fossil fuels, minerals, biological resources)

Human toxicity

Ecotoxicity
During this phase, the parameters to look at are determined so you can make comparisons between packaging.
4. Interpretation
The interpretation phase involves the analysis of impact data. This phase involves a critical review, a determination of how the data will be shared, and a presentation of the results to relevant stakeholders.
5. Improvement
This is where you put the results from your interpretation into action to make packaging improvements.
How a Packaging Life Cycle Assessment Is Conducted
The International Organization for Standardization has created principles and a framework for an LCA. There is various software for conducting an LCA, such as GaBi Software and SimaPro.
Many businesses turn to outsourcing to ensure resources for an LCA are efficiently spent. Companies like PRé, the creator of SimaPro7 LCA software, offer LCA services.
Life Cycle Assessment Challenges
There are a few common challenges related to LCAs. One is bad data. This is especially threatening when you are comparing something that is not on the market. You have to make certain assumptions as you try to find the right set of data.
Another LCA challenge is getting access to data. You may want to compare your results with a competitor's data or a classic alternative. In that case, you will need data from the company, but they may not want to share. In these cases, you can ask an environmental institute to contact the company for the data.
Life Cycle Assessment Examples
To look at LCAs in action, let us look at a couple of examples.
Environmental Impact of Corrugated Packaging
The Corrugated Packaging Alliance commissioned the National Council for Air and Stream Improvement to conduct an LCA of the 2014 U.S.-average corrugated product. That LCA would be contrasted with results from LCAs of the same product in 2006 and 2010, as well as with industry average recycled content.
The 2014 LCA found notable progress compared to the 2006 LCA, including:
A 35% reduction in GHG emissions

A 29% reduction in eutrophication from nutrient discharge

A 23% reduction in smog

A 21% reduction in water use

A 21% reduction in respiratory-related effects
The analysis revealed improvements were driven by factors like increased recovery rates of recycled fiber, increased efficiencies in mill energy systems, and increased use of low-impact fossil fuels.
Life Cycle Assessment of Billerud Packaging
Billerud commissioned IVL Swedish Environmental Research to perform LCAs of the company's paper packaging solutions. The studies compared the packaging with corresponding solutions made from other materials and considered the entire product life cycle, from material production to disposal or recycling.
The Billerud paper bag was found to decrease carbon dioxide emissions by at least half per bag compared to recycled paper bags, bio-based plastic bags, and recycled plastic bags.
Reduce Environmental Impact and Costs
An LCA can be used to:
Improve sustainability

Focus product development

Support marketing claims

Improve a product or corporate image

Identify appropriate performance indicators
With an LCA, you get common metrics that can be compared and shared across the company or with partners and suppliers.
At Billerud, we are one of the most sustainable packaging companies in the world and are challenged by other materials or competitors to deliver the best available option. LCAs allow us to find opportunities to elevate our clients as a result. When you work with us, we provide LCA information so you can feel confident in what you are using for your products and serving your customers.
If you want to make sustainable improvements in your packaging, we offer world-class packaging solutions. Contact us to find out how we can help you.